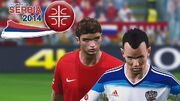 The playoff for Third place at the Jmc World Cup Serbia 2014 took place on Sunday November 1 2015 between Serbia and Russia. Host nation Serbia won the game clinching third place overall. Russia finished in fourth following the defeat. The final score line was 5-2
Run to the playoff
Edit
Host nation Serbia won almost all matches except for a draw with Portugal in the group stage. They lost to Czech Republic in the semi-finals.
Russia had two wins and one defeat in their group stage and won their round of 16 and quarter final matches to get to the semis. They lost to Paraguay in the semi-finals.
Ad blocker interference detected!
Wikia is a free-to-use site that makes money from advertising. We have a modified experience for viewers using ad blockers

Wikia is not accessible if you've made further modifications. Remove the custom ad blocker rule(s) and the page will load as expected.