.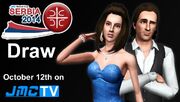 Arya Davis is a Serbian-born American actress. She hosted the Jmc World Cup Serbia 2014 draw alongside Argentine broadcaster Gabriel Dumas.
Early Life
Edit
Davis was born in Pančevo, Serbia. She was the youngest of four kids. Her parents were both American immigrants to Serbia. Her mother worked as a travel agency and her father as a sanitation engineer. When Davis was six years old, her family moved back to America, it was here that Davis discovered her calling in acting after taking drama classes in school. She became a US Citizen at the age of 19.
Acting Career
Edit
Davis attended a school for performing arts in Los Angeles after graduating High School at the age of 18. She was approached by talent agents to star in a commercial which led to her casting of frequent films and sitcoms. She has also widened her career in her birth country of Serbia.
Personal Life
Edit
Davis currently lives in Los Angeles with her husband and their three children. Davis has a holiday home in Pančevo, her birth place in Serbia. She can speak both Serbian and English
In 2014, Davis was approached by Jmc TV to present the draw for the jmc World Cup Serbia 2014 in Belgrade. She accepted the offer and was rehearsing in the studios within 2 weeks afterwards with co-host Gabriel Dumas.
Ad blocker interference detected!
Wikia is a free-to-use site that makes money from advertising. We have a modified experience for viewers using ad blockers

Wikia is not accessible if you've made further modifications. Remove the custom ad blocker rule(s) and the page will load as expected.